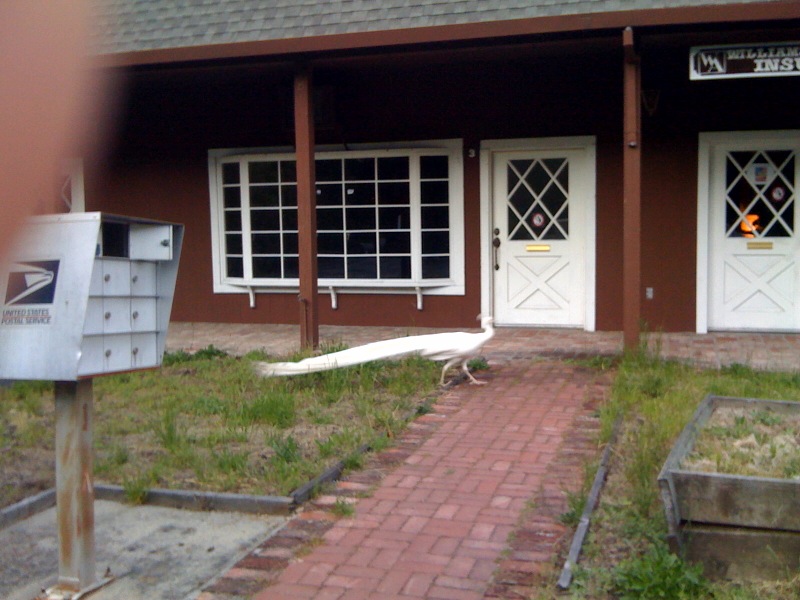 If you don't believe this story, I won't be surprised. But, it's the truth.
I began my 'apparition series' because I had a vision of a white peacock that kept coming back to me. After searching online, I discovered that white (albino) peacocks are quite real. They struck me as haunting, fascinating and utterly surreal. So, before long, I started painting them. A couple weeks into painting these peacocks, I was driving down a fairly busy road in the Santa Cruz mountains. Out of the corner of my eye I saw a fast-moving flash of white feathers running along the side of the road. It only took me a moment to recognize this apparition as an albino peacock. (I'd been working on a painting of one all afternoon, so seeing him in real life felt only slightly out of context.) A moment later, the bird veered off into an empty parking lot. I followed suit and jumped out of my car, iPhone camera in hand. I snapped the 2 shots above before he disappeared into the safety of the wilderness. He was magnificent. I was tingling from head to toe with the giddiness and wonder of having experienced my vision materialize in living form. It was one of those rare transcendent moments where everything vibrated and I felt connected to the universe. At the least, it was an affirmation that this apparition series is what I'm meant to be exploring.
Apparently there are wild (green) peacocks that live in the Santa Cruz mountains. They are spotted occasionally and are more often heard in the distance crooning their eerily beautiful call. But, I have yet to meet anyone else who has seen the elusive albino peacock.